Our own Ugandan boxer Shariff 'The Lion' Bogere has sealed a deal with Mayweather Promotions, owned by recently-retired multiple world champion Floyd Mayweather.
The Las Vegas-based boxer (27-1, 19 KOs), as much known for his brave fighting as for his pre-match antics whereat he enters the ring in a lion mask, was announced by Mayweather Promotions as their latest addition yesterday afternoon, and Bogere called it a great day both for himself as a person as well as for his career.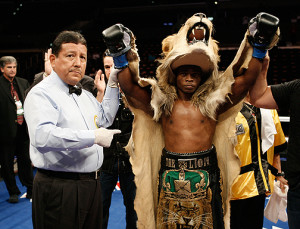 "This is such a great day for me and an important move for my career," said Bogere who plies his trade in the lightweight division. "I'm very thankful to Floyd, Leonard, and the whole Mayweather Promotions team. I cannot wait to get back in the ring and show everybody why I'm a future world champion. I want to fight the best and I feel this will put me in a position to conquer the sport."
Bogere lost his so far only world title fight to Richard Abril by unanimous decision in early 2013, but ever since he has quietly worked his way back into world title contention, winning all four fights he has had since by stoppage.
The recently-retired multiple world champion, Floyd Mayweather himself speaks of Bogere's joining Mayweather Promotions as a move that increases the Ugandan's chances of realizing his dream of becoming a world champion.
"We're proud to add another young, hungry fighter to our Mayweather Promotions stable," Mayweather said yesterday. "Sharif Bogere is a very talented young man with an incredible backstory and I know that he's working hard to become a world champion."
"We believe we have another future Mayweather Promotions world champion in Sharif Bogere," said Leonard Ellerbe, CEO of Mayweather Promotions. "Floyd and myself will work to get him the best fights on the biggest stages. It's very exciting to be able to add a fighter of Sharif's talent and heart to our team."
 Mayweather Promotions boasts over 20 professional fighters including current and former world champions, such as Badou Jack, Mickey Bey, and Ishe Smith.
 Bogere,27, trains in Las Vegas with legendary trainer Kenny Adams, and across the world he has especially made himself a name as another gifted Ugandan pugilist who had to use boxing to rise from the lowest rungs of Third-world Africa and become a global star.
He amassed a 68-4 amateur record on his way to becoming a five-time African champion and serving as the captain of the Ugandan national team, before turning pro in 2008 and earning that failed world championship contest against Richard Abril in 2013.