City Hall Magistrate Court has today Tuesday ruled that the two youths who sneaked yellow pigs into the parliament in 2014 have a case to answer.




Trial magistrate, Mr. Moses Nabende, ruled that the suspects Mr Robert Mayanja and Mr. Norman Tumuhimbise are charged with criminal trespass and interrupting Parliament proceedings basing on testimonies from four prosecution witnesses who are all police officers. These officers include Sgt Bernie Twesigye, Sgt Robert Aboko, Sgt Paul Okwili and Corp Benjamin Arishaba.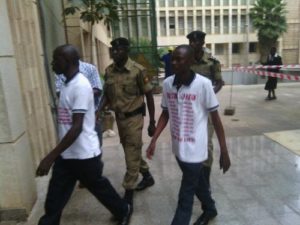 The lead witness Sgt Aboko states in his testimony that he saw the suspects sneaking the pigs in but he could not state how they beat security at the parliament gate yet he was in charge of the parking lot. This however was met with demands bought forth by the defense lawyer Mr. Isaac Ssemakedde to go and revisit the crime scene since the witnesses did not seem to recall what exactly took place.
The prosecution claims that on June 17 2014, Mr. Mayanja and Mr. Tumuhimbise with intent to demonstrate and interrupt proceedings, sneaked two pigs in the parliament to demonstrate over joblessness. They were also dressed in T-shirts on which was inscribed the words "Jobless Brotherhood"
 Mr. Ssemakedde told the media after the court session that his clients have decided that they will stay quiet in their defense.