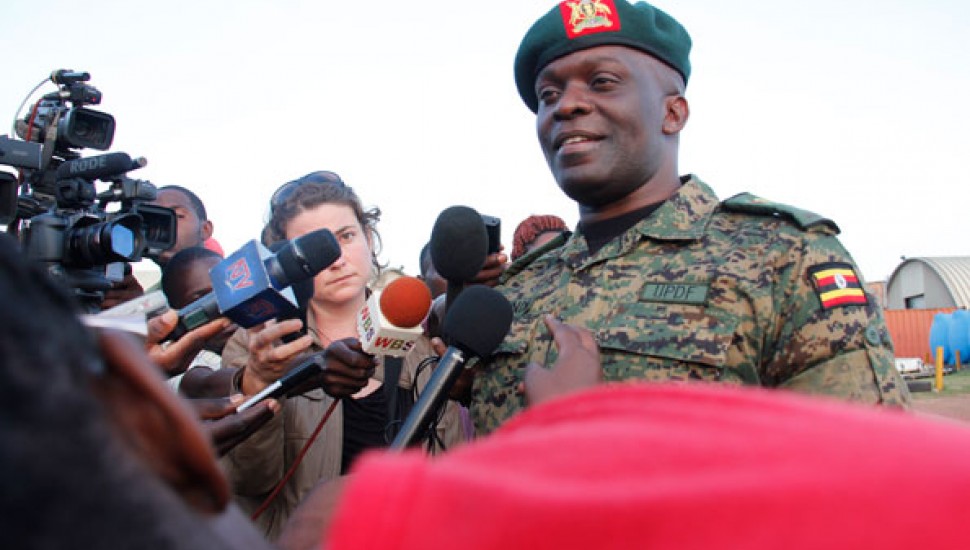 Former UPDF spokes person Lt. Col Paddy Ankunda , a media darling was recently by replaced him with Brig. Richard Karemire in the January army reshuffle. Many could have thought he was destined for a long spell away from the media. However in a new reshuffle, Lt. Col Ankunda has been appointed Chieftaincy of Military Intelligence's director of strategic communication in Mbuya, Kampala, a post that could bounce back on our silver screens.
The deputy army spokesperson Maj. Henry Obbo, the deputy army spokesperson confirmed the transfers saying,"The transfers will take immediate effect and that the officers will be required to start work immediately."
In the other transfers; Maj. Gen. Okello has been transferred from Uganda Rapid Deployment Capability Centre (URDCC)to Joint Chief of Staff. Brig Stephen Oluka from URDCC to the Office of the Prime Minister. Brig. David Wakaalo from URDCC to Operation Wealth Creation. Col. Henry Isoke from CMI to the office of the Deputy Chief of Military Intelligence.Brig. Godfrey Golooba has been moved from the Junior Staff College (JSC) to Moscow, Col. Michael Kibuye has been moved from the Chieftaincy of Mubende Rehabilitation Centre (CMRC) to the department of Chief of Military Intelligence.
Col. Martin Ndyanabo has been transferred from the Fifth Division headquarters, to the Democratic Republic of Congo as head liaison. Col. Bernard Obola has been transferred from C/COMDT, to D/CMRC, Col. Ceaser Bahwezi, has been transferred from D/INT and SYLF, to SCSC, Col Augustine Anywar, from CMI, to UPDRF D/INT, Col. Eunus Bagada from CMI, to UPDRF D/INT, Col. Atwooki Ndahura, from URDCC, to CPA ATT UPF. Col. Irma, who has been transferred from DCT, to Mogadishu. Lt. Col. Muhanguzi has been transferred from CPA Royal Guards, to D/COMD LT while Col Temple Asiimwe has been transferred from D/I&D affairs CMI, to D/protocol LT.