The Azam Uganda Premier League championship race has already kick started as today SC Vipers  play hosts against Onduparaka FC at the St Mary's Stadium in a game that will be live on Azam TV. Vipers are hoping to make it four league wins in a row and coach Miguel Da Costa is confident that his side will match with the challenge.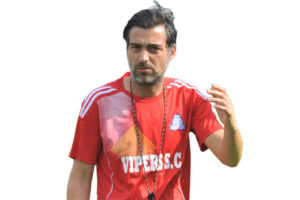 "It's going to be a tough match against a tough team. This is a game where we have to give everything to get all the three points. We have won all the last three league games and we want to continue winning," Costa told us after yesterday's training at Kitende.
However, for Onduparaka, they will be hoping to avoid the repeat of last season as hosts thumped the West Nile side 4-1. This season while in Arua, both sides shared the spoils in a goalless draw. Over the weekend, Vipers won their game 1-0 away at Soana while Onduparaka were held to a goalless draw by relegation threatened Express FC.
Onduparaka coach, Livingstone Mbabazi is confident the previous result will motivate his side as he said; "We missed a lot of Chances against Express; we had a lot of challenges at the Back but am hopeful that We have learned a lot going into this game. The Beauty about the Game is that when you don't do well in your previous game, you always give an extra into the next one and that's the mindset were carrying to Kitende."
Six league fixtures will be played today around the country.
Tuesday, February 13, 2018 Azam UPL Fixtures
Vipers SC Vs Onduparaka FC-St Mary's Stadium kitende 4:00pm Live On Azam TV).
Express FC Vs Bul FC- Muteesa 2 Stadium – Wankulukuku, 4:30pm
Kirinya Jinja SS FC Vs Police FC- Bugembe Stadium, 4:30pm
UPDF FC Vs Proline FC- Bombo Barracks Grounds, 4:30pm
URA FC Vs Bright Stars FC- Mandela National Stadium – Namboole, 4:30pm
Mbarara City FC Vs Soana FC- Kakyeka Stadium – Mbarara, 4:30pm
Maroons FC Vs Masavu- Luzira Prison Grounds, 4:30pm