State Minister for Lands Persis Namuganza is living in fear after she allegedly received threats from 'mafia' who stated she has only three days to live.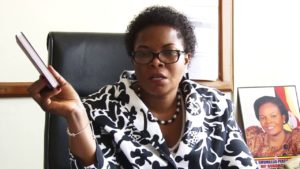 While addressing the matter to media yesterday, distressed minister said; "It's too much! Should I disappear tomorrow, the public should know. They said I'm the highly needed people in government. They are so threatening; they told me that I have three days to live."
According to Namuganza, the said mafias reportedly hacked into her mobile phone and conned fellow ministers, Members of Parliament and friends money worth Shs140m. The minister further explained she has reached out to MTN to trace the hackers but they only confirmed one of their staff was allegedly involved in the actions.
Namuganza also cried out to government to beef up her security. She revealed that her tormentor have always mentioned her precise location.