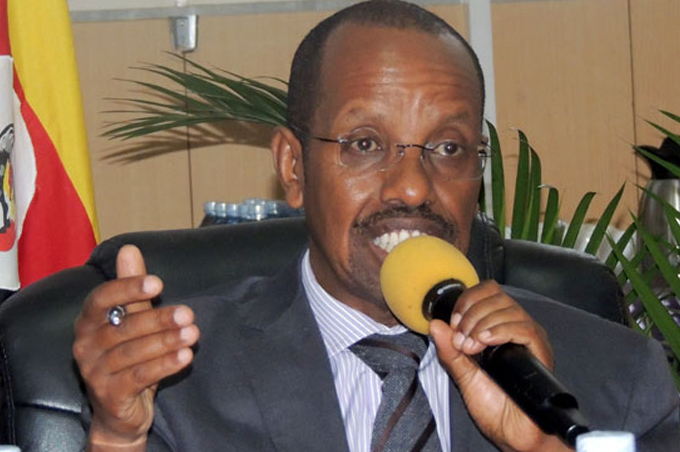 Keith Muhakanizi, The Finance Ministry Permanent Secretary has warned against cancelling certificates of properties repossessed by Asains.
In a letter to George William Bizibu, the Executive Secretary Departed Asian Property Custodian Board, Muhakanizi said once a repossession certificate has been issued by the Board, only courts of law have the authority to cancel it.
"Where a repossession certificate for properties any under the Board had been issued, only the relevant courts of law have the authority to cancel such certificates in accordance with the law," Muhakanizi wrote in a letter dated May 23.
Mahakanizi's directive was a result of deliberations from a meeting he attended with Finance Minister Matia Kasaija, and the DAPCB Executive Secretary Bizibu.
The Departed Asians Properties Custodian Board was formed after the fall of Idi Amin to manage the properties that had been taken away from Asians who had left the country when he expelled them.
The board's mandate was to enable those Asians who returned to the country to take back possession of their properties and manage those that were not repossessed by the original owners.
The board originally was supposed to wind up and properties of Asians that had not been reclaimed sold off, in the mid-90s but this is yet to happen and any new proposed date of winding up has led to massive corruption and a scramble for the properties, many of them in prime locations by public officials.
There have been several incidences of the board cancelling certificates of ownership it has handed to Asian families, a matter which can now only be decided by courts of law.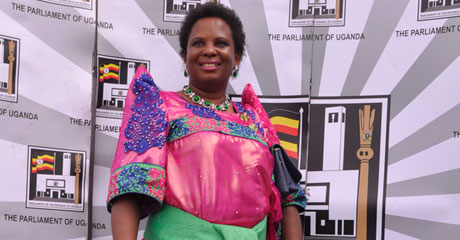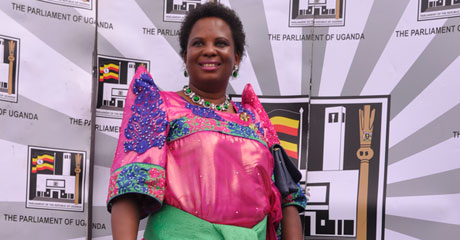 Muhakanizi's directive comes on the heels of the Land Probe chaired by Justice Catherine Bamugemereire grilling Lands Minister Betty Amongi for reportedly using a company Amobet Investments Limited she co-owns with her sister Adongo Keti to acquire temporary possession of four lucrative government properties in Kampala after they were repossessed by an Asian family in 1992.
Amongi, a member of the Departed Asian Property Custodian Board is accused of having used her position as minister to acquire the properties located along Acacia Avenue in the upscale Kololo suburb, registered in the names of Toshak Munubhai Patel. The property is currently occupied by Midcom Telecom.
Another property Amongi is accused of taking possession of is located on Prince Charles Drive in Kololo.
Amongi's defence was that her Managing Director tried to apply for the property as early as 2010 before her appointment as a Minister.
Amongi's alleged involvement in apportioning departed Asian's properties cast the spotlight on the Departed Asians' Property Custodians Board, where she is a member.
Among other corrupt tendencies the board is accused of is fronting impostors to take over properties while the real owners are side-lined.
The board is chaired by Finance Minister Kasaija. Other members include the Attorney General and Local Government Minister among others.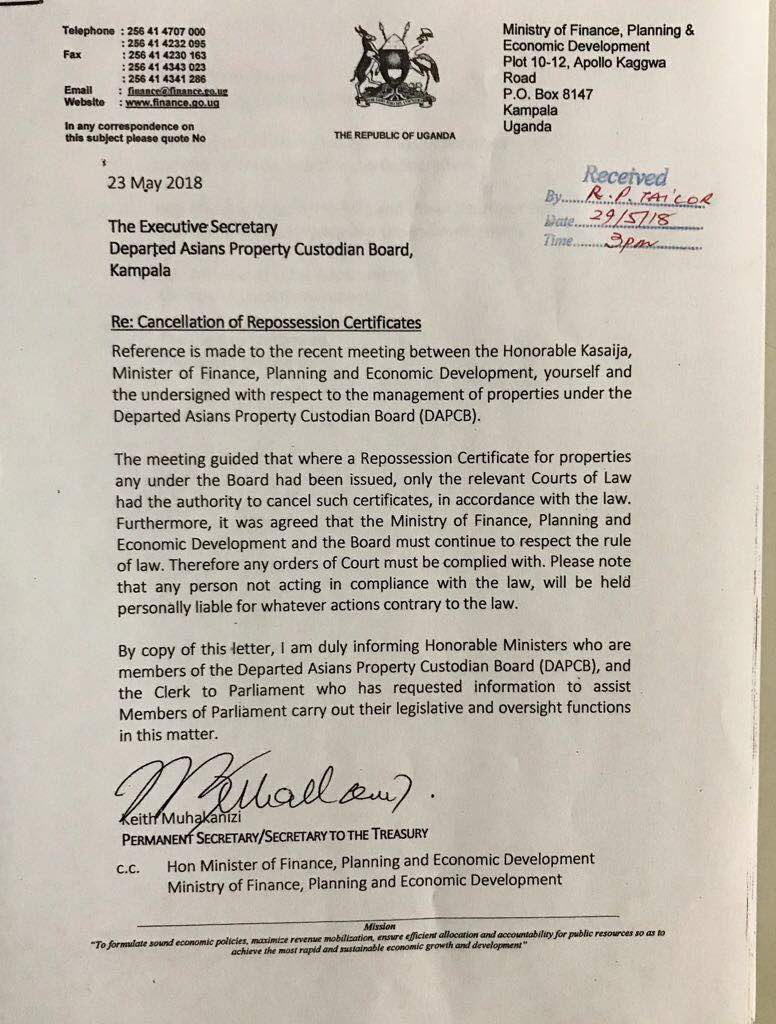 While Kasaija has previously feigned ignorance about the alleged fraudulent allocation of Departed Asian Property, evidence was tendered before the Land Commission about the temporary allocation of property by the board, which was already re-possessed and certificates issued.
Muhakazi emphasised that the public officials must follow the law.
"It was agreed that the Ministry of Finance and the board must continue to respect the rule of law. Therefore, any orders of court must be complied with. Please note that any person not acting in compliance with the law, will be held personally liable for whatever actions contrary to the law," Muhakanizi wrote.
"By copy of this letter I am duly informing Hon Ministers who are members of the Departed Asians Property custodian Board (DAPCB) and the Clerk to Parliament who has requested information to assist Members of Parliament carry out their legislative and oversight functions in this matter," he concluded.