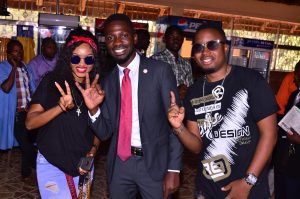 Singer Spice Diana seems not to be good with figures. The singer has yet again become a subject of social media ridicule after she struggled to get her figures right. While speaking to the press over the Shs200 OTT tax, the singer was unaware of what the whole tax is all about.
The singer mentioned Shs200,000 , Shs250,000 and lastly settled for Shs2050!
"Some think Shs250000 is little money…err Shs200,000 ..yeah! Shs2050…but to many Ugandans out there, it's a lot of money", she explained her point.
On a positive note, she stated that social media is one of the reasons for her rise in the music industry. She revealed that most fans refer to her as 32 after she stated in a TV interview that she scored 32 at A' level. Also, her wardrobe malfunction in yet another live TV interview further increased her publicity when the wig fell off. She stated that she had the last laugh as it boosted her career and earned her several bookings.
"I am proud of it. Everywhere I go, they now call me 32. People might take it as a bad thing but whether it's good or bad publicity, I benefit", she stated.
"I now have one of the hottest songs in the country. I get bookings everyday because of social media".
She further decried that the tax will reduce social media engagement.
"Instead of getting 500 likes, one can get only 20 likes. The likes and comments are helpful because the fans offer advice", she stated.
Diana rallied fellow artistes to speak out against the tax. She was flanked by other singers; Nubian Lee, singing MP Bobi Wine, A Pass, Dr. Hilderman, comedian Patrick Salvado and journalist Raymond Mujuni.