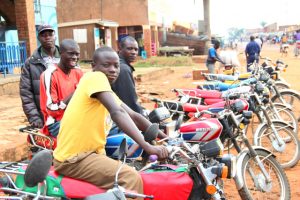 Kintu Yasin is an ordinary boda-boda rider in Mukono town but unlike his colleagues, you won't find him at his Bishop's stage before 8 pm in the night. Asked why he works nights only, his answer was simple for a man who stopped in Primary Four.
"High risk, high reward," he said. This means the more he embarks on journeys his colleagues regard as risky, the better the payment he gets.
A ride that ordinarily costs Shs1, 000 during the day costs between Shs2, 000 and Shs4, 000 in the night. From this risk, Kintu goes home every morning Shs120, 000 richer than his colleagues – enough for him to take home a handsome package.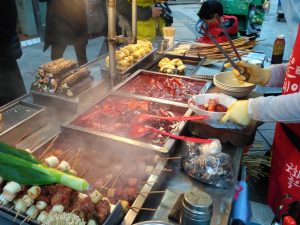 Fast foods and take away
Like Kintu, Juliet Kyewalyanga popularly known as Maama Aggie in Seeta runs a mobile grocery kiosk on the roadside just after the Mwebaza stage.
She sells not just fresh fruits but also ready to eat Katogo at just Shs2, 000 – an unrivaled delicacy for the youths who cannot afford a proper meal.
Maama Aggie and several of her colleagues operate on this street until after 1 am and serve at least 100 passersby daily.
"My food has never remained. I make not less than Shs200, 000 a night yet I spend about Shs30, 000 on buying cassava and matooke that I prepare the following day," she said.
Other fast foods on high demands in the night are chips, deep fried chicken, and fish, pilau, roast and boiled maize, the famous rolex, chapatti, and beans (kikomando) among others.
Roast meat (muchomo)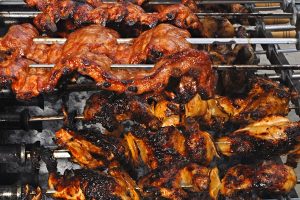 No one can walk past a muchomo stall without casting an eye in its direction. The scent alone from the beef, goat's meat, chicken, sausages or pork on fire excites one's taste buds.
In Wandegeya, Edgar arrives at his station at 5 pm and sets fire on his stove. After lining up his sumptuous products on fire, he lets the scent do the talking. By midnight, he has harvested a whooping Shs400, 000.
"I get most of my supplies from the butchery. All I do is make sure everything is well marinated and spiced. I also have chili on the side for those who love it," he noted.
Shoes

When the flamboyant boutiques close shop in Kampala, it is the hawker's time to shine. From Kisenyi through to Nakawa, Bweyogere, Kireka and other suburbs, shoes of all kinds, sizes, and shapes are lined up.
At Shell Nakawa, Senior John as he calls himself stands adjacent to the taxi stage with a collection of men's casual and formal shoes. A pair is priced between Shs60, 000 and Shs120, 000 and on a good day, he sells about nine pairs. Do the mathematics.
Bars
If there is one thing we can all agree on is that Ugandans love their drink. It doesn't matter where the bar is, the beer will be drunk. Our ranking as Africa's second most alcohol consuming nation is real. That said, bars are the most money minting businesses in the night whether is it a posh place in Kololo or a kafunda in Katanga, business is good.
Pharmacies
That's right. We all not need a place to run to when the night gets tough and 24-hour pharmacies are not easy to find. If you start one in your neighbourhood, you can save lives. Ensure that you have condoms, the morning after pills, a trained and qualified physician and a license to operate.
"