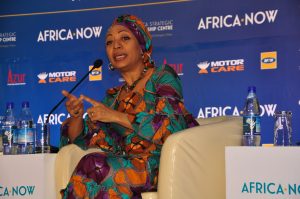 Samia Yaba Nkrumah, the only daughter to Ghana's founding president and African hero, Dr. Kwame Nkrumah shocked the delegates at the #AfricaNow conference when she revealed that her father did not have a house of his own.
"My lovely father did not own a house. Even the one that was built for him through several contributions by women, he gave it out to the state. It is now a State Lodge."
Samia, the founder of the Kwame Nkrumah Pan African Centre, was advocating for her father's vision of a united Africa.
Her efforts, she says, have been sabotaged by greedy, selfish leaders who cannot sacrifice anything for their countries or people.
"We haven't made steps towards political unity since we gained independence. I want to challenge you to interrogate what political unity can do," she added.
The #AfricaNow high-level dialogue was organized by the African Strategic Leadership Centre which was launched by the Prime Minister, Ruhakana Rugunda on July 31, 2018.