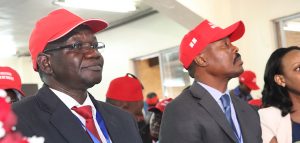 When Gen Mugisha Muntu lost the presidency of the Forum for Democratic Change (FDC), he blamed veteran politician Col Kiiza Besigye for secretly undermining him in party circles causing his failure.
Barely a year after taking office, Patrick Oboi Amuriat – the incumbent FDC president is already blaming his predecessor – Mugisha for working secretly to undermine him.
In an interview with Matooke Republic, POA – as he is popularly known – said that ever since his sour loss in November, Muntu embarked on a countrywide consultation program without the authorisation of the party.
"The party has structures and Gen Muntu is aware of them. He decided to hold a parallel party activity and even when Hon. Nandala Mafabi wrote to his team to stop, they refused," he noted.
Amuriat further asserted that Muntu built a network of his allies in the party who frustrated his presidency and boycotted party activities as if they were not even members.
He alleges that the outgoing Leader of Opposition, Kasese Woman MP, Winnie Kiiza has not attended any party meetings since Muntu lost the presidency in November last year.
"As party president, I should be briefed on the parliamentary proceedings by the party parliamentary leadership. So, if Winnie and Katuntu refused to work with us, don't they deserve to be substituted?"
Amuriat further alleges that Kiiza has never attended NEC, CEC nor join the party in campaigning for party candidates in different parts of the country during the Local Council, Mayoral, and Municipality elections.
"You have heard that FDC did not win any seat during the last wave of elections. Have you stopped to wonder why? This is why I thought we should make some changes so that we can organise ourselves better with people who are passionate about the party," he added.
He added that he did not intend to make changes but his hand was pushed by the defiant legislators who repeatedly boycotted party activities.
Experience is nothing without desire
Asked what criteria he followed when choosing the new in the appointments announced on Friday, Amuriat said that the new appointees showed zeal, desire, and loyalty to the party.
"Desire is what drives anything forward and some of these people lost it when we came in. I have to find people with the drive to push forward, to unite rather than divide and I believe my choices competent enough," he said.
Amuriat made several highly critisised changes but the most contentious has been replacing Winnie Kiiza with Gulu Municipality's Betty Ochan as Leader of Opposition in Parliament and appointing Kawempe South MP, Mubarak Munyagwa to replace seasoned lawyer and Bugweri County MP, Abdul Katuntu.
Amuriat's changes have been received in the party with mixed feelings. Kakwenza Rukirabashaija, an FDC member backed the new appointees to shock the country with great work.
"Every FDC member is capable of leading. Give them a chance. Did we know about Winnie or Wafula? Should we have remained with Ogenga Latigo because we didn't know that there's Nandala? Even me I'm capable," he said.
Kakwenza added that "POA is a good leader who wants to be failed by pro-Muntu team because they were defeated and refused to work with him."
But veteran columnist and neurosurgeon based in Canada, Muniini Mulera said the reshuffle was a clear sign that FDC will choose defiance over compromise and emotion over reason any day.
"I was in Uganda when Muntu lost and I wrote that his loss would set FDC on a clearer path. I am surprised the reshuffle took this long. It was expected sooner or later," he wrote in an email to Matooke Republic.
Kiiza not ready to talk
When Matooke Republic reached out to Hon. Winnie Kiiza for a response on the several remarks made by the party president Amuriat, she declined to comment saying the party president had his reasons and it is well within his mandate to make his changes.
"I respect the party president and I will not say much about some of the comments he has been making. My job has been fruitful and I thank Gen Muntu for the opportunity to serve," she said in a telephone interview.
Kiiza, however, spoke highly of her replacement as a woman of character, doesn't step on people's toes and a friend of peace.
Muntu sends jibe at POA
Gen Mugisha Muntu who is on an upcountry consultative program was said he "lost and conceded defeat" and doesn't see how he is undermining Amuriat.
"I did my part and the party rewarded me. Oboi should be allowed to do his part as well and he will also be rewarded accordingly," Muntu noted.
"From the start, I said our consultations were about whether or not there's space in FDC for diverse opinions since the party had chosen defiance platform. I have since campaigned and worked for the party."
Muntu remained tightlipped about the possibility of creating a defacto political party (third force) saying, philosophically, that "time will tell."