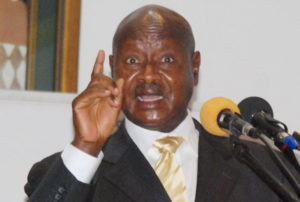 Soon after the Electoral Commission gazetted Kassiano Wadri as the legitimately elected Arua Municipality MP, President Museveni has hit out at the commission accusing them of gross incompetence and "full of rotten people".
Museveni who was officiating the handover of the of the newly elected district women chairpersons, he spoke angrily about the manner in which Justice Simon Byabakama's commission handled the recent by-elections that saw his party – the National Resistance Movement (NRM) lose ground to opposition-inclined independents.
"The Electoral Commission is full of rotten people, I am going to get rid of them, why should we suffer with corrupt electoral officials when NRM has got so much manpower, they should get out," the president scoffed.
In his recent banters, Museveni accused the commission of sanctioning gross electoral malpractices including allowing ghost voters, ballot stuffing and violence in Jinja East, Bugiri Municipality and most recently in Arua.