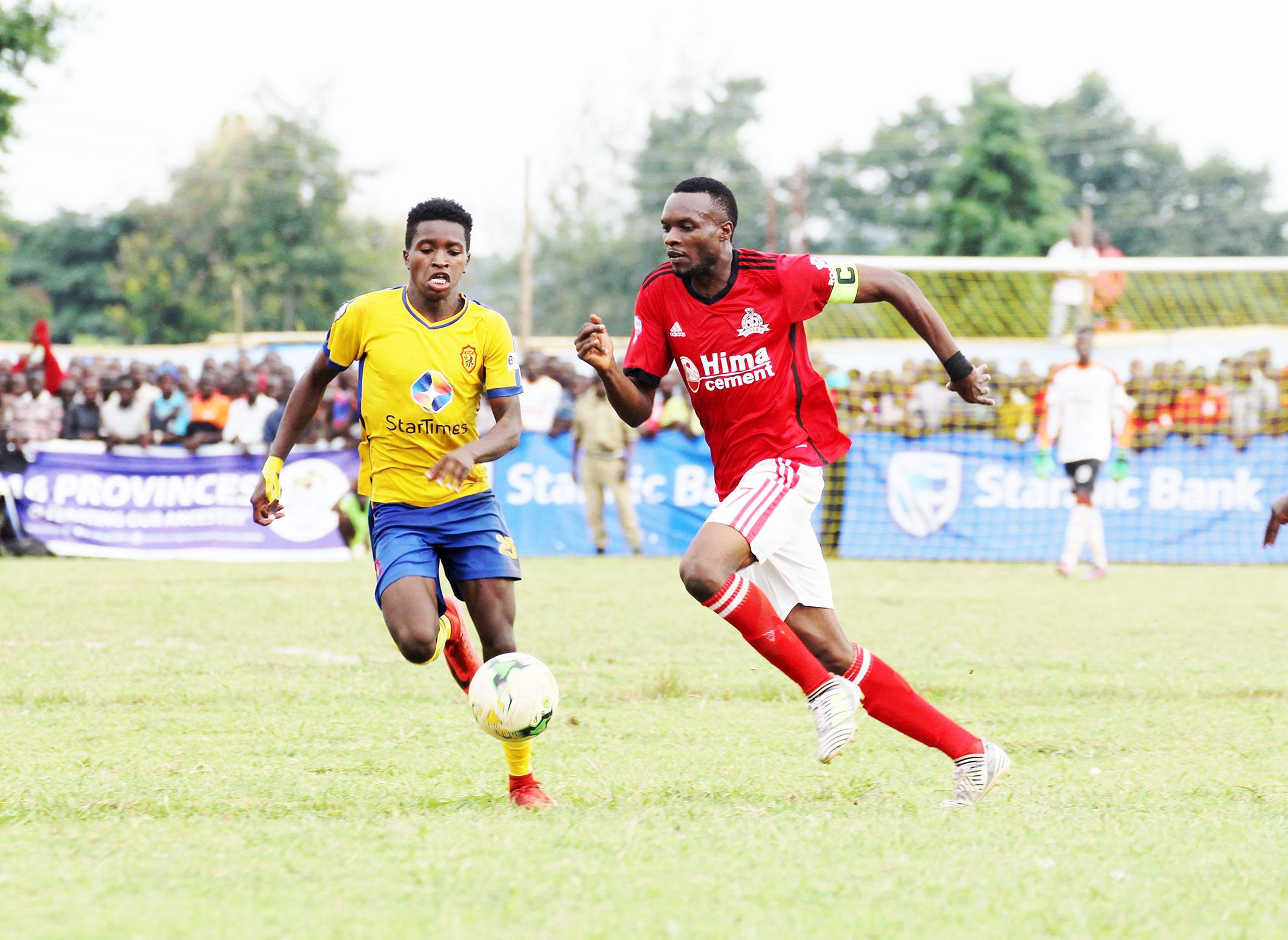 Following a three month-break, the Uganda Premier League is back this Friday. It will certainly be bigger financially, having landed a $7.2m (Shs26b) broadcast sponsorship deal with pay TV company StarTimes over a ten-year period. William Kasoba compiled a snapshot of the 16 teams that make up this season's UPL.
KCCA FC
In brief: Kampala Capital City Authority Football Club is the team Vipers deposed to claim the title, as the former could only finish second.
The 'Kasasiro boys' however redeemed their season by denying Vipers a chance to attain a double, as KCCA beat the Venoms 1-0 to claim the Uganda Cup.
Head coach: Mike Hillary Mutebi
Home ground: StarTimes Stadium, Lugogo
Our classification: Title contenders
Prediction: 1st
Given the preparations, quality and depth of their squad, as well as the fact that the team's youngsters have added another year of experience, KCCA will be the clear title favourites.
2. Vipers SC
In brief: Kitende-based Vipers Sports Club are the UPL defending champions after claiming their third title with a deadline 4-1 win over relegated UPDF 4-1 at St Mary's stadium.
The Venoms collected 65 points, four better than second-placed KCCA FC.
Head coach: Javier Martinez Espinosa Home ground: St Mary's Stadium, Kitende
Our classification: Title contenders
Prediction: 2nd
Despite losing star players Milton Kariisa, Nicholas Wadada and Ismael Watenga, Vipers have beefed up their camp in the transfer window. But with a new coach finding his feet in Ugandan football, they will certainly compete but possibly surrender the title back to KCCA FC.
3. SC Villa
In brief: After a long time of waiting for a title, last season seemed to be Sports Club Villa's best chance as they led the table for the longest time, only to end up as mere pacesetters who eventually settled for third place.
Head coach: Moses Basena
Home ground: Namboole Stadium
Our classification: Title pretenders
Prediction: 3rd
The Villa camp was been more of a battleground during the offseason–it was so bad the club president Ben Misagga had to resign. The new administration is solid, however, and could ensure Villa challenges.
4. Onduparaka FC
In brief: West Nile side Onduparaka had a mixed season but managed to stay hard footed, resulting into its best season in the UPL with a fourth place in only their second campaign in the top flight.
Head coach: Asaph Mwebaze
Home ground: Green Light Stadium, Arua
Our classification: Spoilers
Prediction: 4th
Despite not winning trophies, the Caterpillars have staged impressive campaigns and with their fortress in form of the Green Light stadium and an excellent manager in Asaph Mwebaze, it will not be dissimilar this season. A top-five finish is possible.
5. Kirinya Jinja SS
In brief: Just like Onduparaka, Jinja SS has proved a hard nut to crack at home and mastered the art of staying 'relevant' in the league of big boys.
Head coach: Charles Ayiekoh Lukula
Home ground: The Mighty Arena, Jinja
Our classification: Spoilers
Prediction: 5th
With a number of new talents added, Kirinya is capable of rubbing shoulders with the big boys and I tip them for another top-five finish.
6. URA FC
In brief: Despite having significant resources at their disposal, the tax collectors never showed signs of being the top team they once were throughout last season. Perhaps the fact that Sam Ssimbwa is now in charge will change that.
Head coach: Sam Ssimbwa
Stadium: Namboole Stadium
Our classification: Spoilers
Prediction: 6th
Arguably the most popular candidate for a mid-table finish. URA has been in decline for so long it is hard to remember they were champions barely a decade ago. While they will be hard to beat, as Ssimbwa's sides usually are, they are some way off challenging for the title, but will also certainly improve.
7. Police FC
In brief: The Cops started fairly well, then struggled in the second half of the opening round after losing reliable striker Hood Kaweesa. They regained their feet in the second round and escaped relegation.
Head coach: Abdallah Mubiru
Home ground: StarTimes Stadium
Our classification: Spoilers
Prediction: 7th
With the lessons of a relegation-threatened campaign learnt from last season, the Cops should be better under Abdallah Mubiru's tutorship and could compete with the likes of Onduparaka, Kirinya and URA.
8. Maroons FC
In brief: Maroons finished a respectable ninth but it was their record 18 draws that provided one of the queer facts of last season. The Prisons team was hard to beat with Asaph Mwebaze as a coach and expect no big difference even with the change of management to the seasoned George Nsimbe.
Head Coach: George Nsimbe
Stadium: Luzira Prisons Grounds
Our classification: Spoilers
Prediction: 8th
Maroons is another team that will be a hard nut to crack for the big boys. Ultimately, however, they will neither compete for the top four places nor get drawn into the relegation conversation.
9. BUL FC
In brief: The Jinja-based side struggled last season mainly due to administrative reasons but they were eventually resolved thus managing to scoop a top 10 finish.
Head coach: Peter Onen
Home ground: Abel Dhaira Stadium
Our classification: Survivors
Prediction: 9th
BUL has been consistent in previous campaigns and it should have enough to maintain its UPL status.
10. Nyamityobora FC
In brief: Nyamityobora FC was utterly dominant in their pursuit of the top division, football and booked their spot fairly comfortably. They have arguably the most fanatical following of the three UPL teams based in western Uganda and are certainly the most ambitious.
Head coach: James Odoch
Home ground: Wankulukuku
Our classification: Survivors
Prediction: 10th
In their maiden season, Nyamityobora's main task will be keeping themselves safe from relegation, and with a good coach in James Odoch, should survive.
11. Express FC
In brief: The country's oldest football club narrowly survived relegation last season, having to wait until the final day to ensure their top-flight status was intact. A host of administrative changes during the offseason have breathed new life into the Red Eagles, however.
Head coach: Kefa Kisala
Home ground: Wankulukuku Stadium
Our classification: Survivors
Prediction: 11th
A lot has been done to redeem 'Mukwano Gw'abangi' but in terms of player recruitment so much has been lacking. They will survive relegation but a top 10 finish will be a surprise.
12. Bright Stars
In brief: Bright Stars only excelled in making a trip to their Mwererwe home ground a tough one for any team seeking to collect maximum points.
Head coach: Fred Kajoba
Home ground: Champions Stadium, Mwererwe
Our classification: Survivors
Prediction: 12th
Bright Stars is likely to miss out on the top 10, but should still be good enough to maintain their top-flight status.
13. **Mbarara City **
In brief: Mbarara City for action last season with high, some would say unrealistic expectations, and it showed as they sacked more coaches than any other club in the name of getting results.
Head Coach: Livingstone Mbabazi
Stadium: Kavumba Recreation Grounds
Our classification: Strugglers
Prediction: 13th
Mbarara City's main problem last season was the high rate of changing coaches. If they attempt a repeat this season, they could find themselves playing Big League football next year.
14. Tooro United (Formerly Soana FC)
In brief: Soana FC's story last season was a story of constant struggles throughout the season although they managed to survive relegation. With a change of name to Tooro FC, they will hope that comes with better fortunes on the pitch.
Head Coach: Wasswa Bbosa
Stadium: Bahinga Stadium, Fort Portal
Our classification: Strugglers
Prediction: 14th
Their change of name and the home ground is sad, likely to do nothing for their improvement on the pitch, and they will probably be a regular in the relegation zone and ultimately go down.
15. Ndejje University FC
In brief: Ndejje University Football Club won promotion to the Uganda Premier League after nine years in the Big League but the university team, while decent, is not likely to be good enough.
Head coach: Raymond Komakech
Home ground: Ndejje University playground, Ndejje
Our classification: Strugglers/Jokers
Prediction: 15th
With their youthful team and an obvious lack of top-flight experience, the university team is likely to be right back in the Big League next season.
16. Paidha Black Angels
In brief: Paidha Black Angels (PBA) is regarded as West Nile's favourite football club, even more, popular than Onduparaka. They booked their promotion spot after defeating Kitara FC in the playoff final at the StarTimes Stadium in June.
Head coach: Richard Tamale
Home ground: Green Light Stadium
Our classification: Strugglers/Jokers
Prediction: 16th
PBA will be no different from fellow newcomers Ndejje University. Theirs will be a season-long battle to survive relegation, but one they will lose.
STARTIMES UPL OPENING FIXTURES
Friday, September 28, 4 pm
Vipers SC v Ndejje University, St Mary's
URA FC v Paidha Black Angels, Namboole
KCCA FC v Tooro United, StarTimes
Onduparaka FC v Nyamityobora, Green Light Stadium
Mbarara City v Express FC, Kakyeka Stadium
Kirinya Jinja SS v SC Villa, The Mighty Arena
Bright Stars v Maroons, Mwererwe
Saturday, September 29, 4pm
Police FC v BUL FC, StarTimes Stadium