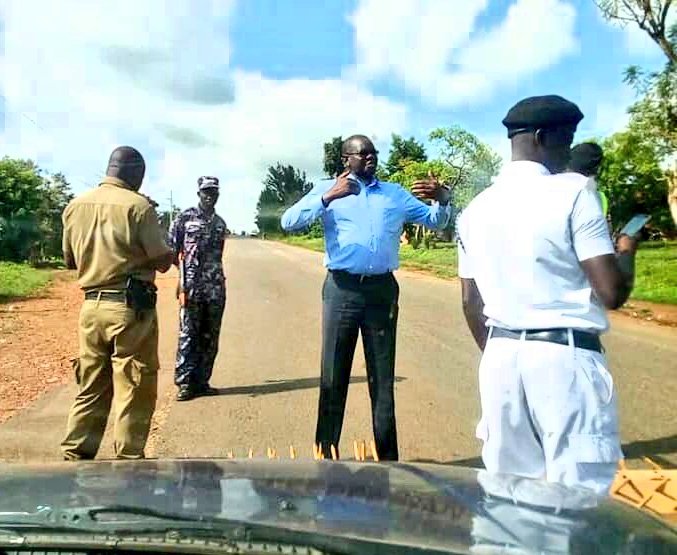 A police vehicle that was transporting the Forum for Democratic Change (FDC) president, Patrick Oboi Amuriat back to Kampala was forced to stop in Fort Portal after it ran out of fuel.
Amuriat had been arrested from Kasese district where he had gone to attend a two-day meeting with district party members on invitation of Busongora North MP, William Nzoghu.
Amuriat was scheduled to meet district leaders at Rwenzori Information Centre in Kisinga town council and there after a public rally in Kisinga town council. He would then address another meeting with leaders in Karambi Sub County and public rally at Maliba town board.
Other rallies had been planned at Karambi and Nyakasaga playgrounds later in the evening.
Before his arrest, Amuriat was blocked from Rwimi trading centre and ordered to return to Kampala but instead got a boda-boda and tried going around the police roadblock through the neighbouring hills to Kasese town.
His efforts had paid off but following police intelligence, he was arrested and put in a police vehicle that sped-off towards Kampala.
Amuriat was according to FDC sources, unconditionally released after the police realised they could not move any further.
Opposition Supremo and former FDC president, Dr Kiiza Besigye, lashed out at the police for alleged human right abuses and curtailment of people's freedoms.
Kasese District Fdc leaders had organised party activities to which FDC Party leader Hon Oboi Amuriat was going today. He was intercepted by Police before arriving into Kasese, arrested &taken to a yet undisclosed location!
Abuse of Rights &impunity must stop!#M7mustGO@PGovUg pic.twitter.com/K03lOZkPZC

— Kifefe Kizza-Besigye (@kizzabesigye1) October 15, 2018