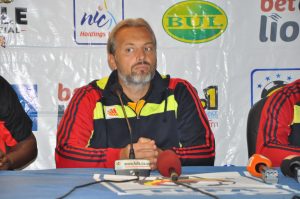 After replacing Milutin Sredojevic ('Micho') in December last year, Sébastien Desabre's commencement of his Uganda Cranes tenure did not go well. In his first 10 games with the Cranes, Desabre only won one, lost four and drawn five games.
However, the Frenchman managed to turn things around claiming a double win against Lesotho last month and today he has taken back the Cranes to AFCON.
During the after match press conference at Namboole on Saturday, overwhelmed Desabre revealed that he felt the pressure in the opening days as a head coach but given the talents he had in his squad, he knew things will soon go in his favour.
"I worked under pressure at the start but I was confident. Uganda has lots of good players who always work hard and now we are back in the AFCON finals," Desabre said before admitting that this is the best moment in his coaching career.
"Am happy for my players and to all the fans who have supported us. As a team, we shall continue to improve," he added.
Desabre who was born on August 2, 1976, at Valence: France started his coaching career in 2004 as an assistant coach at French side ESC Rocheville before being elevated to a full coach in 2006.
In 2010, Desabre joined Ivory Coast giants ASEC Mimosas up to 2012 when he joined Cameroon top-flight club, Cotton Sport Garoua.
After that, he coached various top-flight clubs in Tunisia, Angola, United Arab Emirates, Morocco and Egypt where Fufa got him from.