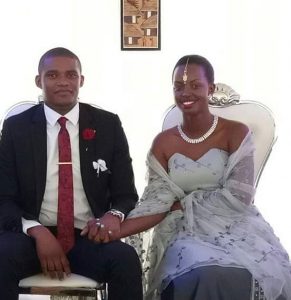 Flavia introduces Kabuura to parents
Celebrated radio and television personality Flavia Tumusiime on Saturday introduced sports journalist Andrew Kabuura to her parents as her man of choice at a simple, cultural yet glamorous ceremony.
Tumusiime and Kabuura ended years of speculation earlier this year when they revealed that they were engaged and it was only a matter of time for the duo to seal it off in a Holy Matrimony. The wait is now over and from a distance, one can clearly hear the wedding bells.
PHOTOS: The moments Flavia Tumusiime introduced Andrew Kabuura to her parents
Hellen Lukoma reveals the mystery 'Mr A'
In related news, musician and actor Hellen Lukoma finally put an end to the mystery that surrounded her relationship with one 'Mr. A' when she introduced him to her parents in an all-out kukyala – a traditional cerenomy where the man formally visits a girl's parents to make his intentions formal.
PHOTOS: Hellen Lukoma's magnificent Kukyala ceremony
Opposition MPs want Janet Museveni to resign
Opposition MPs led by the Leader of Opposition in Parliament, Ms Betty Aol Ochan, have asked the First Lady Janet Museveni, to resign as Education minister over the ministry's failure to enforce its directives and guidelines in schools.
During the Tuesday Parliamentary seating, Aol said that there has never been any police report into such fires that has been made public. The reaction follows the recent fire outbreak that gutted St Bernard's Secondary School, Mannya in Rakai District, killing 11 students and leaving 40 hospitalised with injuries.
Chinese investors threaten to meet over gang attacks
Chinese doing business in Uganda have threatened to leave the country and invest elsewhere in Africa unless the government provides security to stop criminal attacks on their companies and killing of members of their families or workers.
President Museveni, he has vowed to deal with the gangs trying to frustrate the investors. Several attacks have been reported but the most recent happened late last month, criminals raided CCLE Rubber Company in Mbalala Village in Mukono District and injured five people.
Three of the victims were Chinese and two local workers of the same company.