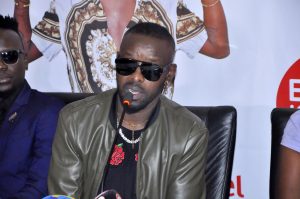 The older it gets, the more confusing singer Eddy Kenzo's relationship with Rema Namakula becomes.
After Rema got multitudes of public sympathy for her song 'Sili Muyembe' that many interpreted to be a jibe at Eddy Kenzo for not making things between the two, Kenzo who has been silent on the matter finally spoke.
At a press conference where he unveiled plans for this 10 Years of Eddy Kenzo concert that will happen on January 4, 2018, Kenzo who was evidently tired of the talk could not wait to bust out.
"Marrying is not a competition. It comes from the heart and the understanding between the two parties. No one is going to force me to marry Rema. When the time is right, I will inform you but for now, ask me about issues that build the country," Kenzo told journalists.
Kenzo laughed at "social media idlers" who have given him an ultimatum as to when he should walk the diva down the aisle.
"Some people really make me laugh. How do you tell me when to marry someone as if you're the one who got her for me?" Kenzo wondered.