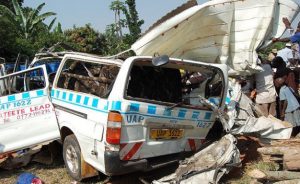 DRINK DRIVING ESCAPADES
The festival season is finally here. The ba-summers are soon jetting into the country and bars are set to get busy. A line up of events has been scheduled to take place. Lives are bound to be lost because of the reckless drunk drivers.
With the famous kawunyemu is now barely heard of. Stories of accidents are likely to be commonplace in the media.
According to the Traffic Road Regulation 2004, the prescribed blood alcohol level beyond which a person is not allowed to drive a motor vehicle is 80 millilitres of alcohol in 100 millilitres of blood. Drunk drivers are constantly breaking the traffic regulations because the supposed watchdogs are now reluctant to do their jobs.
ROAD ACCIDENTS
As the rush hour for people to travel to their respective villages sets in, road accidents are going to be on the rise. This is due mostly to the violation of speed regulations, abuse of driving rules like the seatbelt/helmet rule, failure to respect street signs and traffic lights and most importantly, overloading.
The law says that passenger service vehicles in urban areas, trading centres and other populated are limited to 50km/hr but there are no gazetted speed checking points in the city to monitor and control over speed driving.
A lot of people get away with over speeding without being arrested or punished. Hopefully, the new KCCA cameras will come in handy on this one. But then one wonders what becomes of upcountry towns like Mbale, Jinja, Entebbe, Mbarara and others.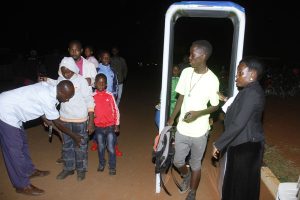 TERRORIST ATTACKS
It is now eight years since terrorists attacked and killed over 70 Ugandans watching the World Cup final. But from the laxity in security, one might as well say that the security agencies have forgotten the tragedy. The checkpoints at busy places like malls, taxi and bus parks, and markets have loosened.
There is no checkpoint in places highly populated places like the St. Balikuddembe (Owino), Kikuubo, downtown, Kisenyi Bus Park, Qualicell bus terminal, Arua Park and many others.
These make an easy target especially during the festive season when the parks are at their peak periods.
Outside the festive seasons, here are other calamities in waiting…
MORE SCHOOL FIRES
Many schools have been established all over the country but only a few meet the standards and as a result, reports of fire outbreaks like the most recent one in Rakai district continue to abound.
Most schools lack fire extinguishers, the dormitories are packed, have no quick exit points and the buildings are akin to those built in 1900.
With the relevant government ministries and departments failing on their mandate to protect the citizens, you are advised to look out for yourself. Don't drink and drive, avoid over speeding and overly populated places whose security and safety you can't guarantee and be vigilant for any suspicious people and items.
SCHOOL VANS
The lives of our school going children are at great risk. Most of the vans that drop and pick kids from school are very old and in gross mechanical condition. The kids are packed like chicken with hardly any breathing space in the car. Many are seen miserably looking out of the windows trying to grasp for fresh air.
What makes matters even worse are the pick-up and drop off hours that are often too early in the morning and too late in the nights and the fact that traffic police is more invested in drivers of passenger service vehicles (taxis, buses and trucks) than PMOs. As a result, drivers of school vans can get away with having no driving permit, over speeding and other traffic offences.
In the likely event that such a vehicle gets an accident, so many innocent lives will be lost.
COLLAPSING BUILDINGS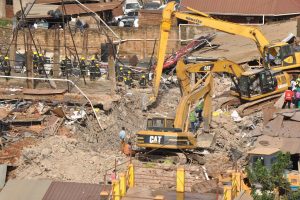 The Building Control Act has not been put into use when it comes to building in Kampala. Many buildings have poor structural designs and are only a matter of time until they cause harm.
Some buildings have not been renovated in a long time yet they host an immeasurable number of people. The Mandela National Stadium, Namboole is one such example. With a sitting capacity of 40,000 people, the stadium accommodates a lot more of some games and but not been reinforced to for strength.
Almost every year, a building collapses most due to poor quality materials or shoddy engineering work. These have to be nipped in the bud as soon as yesterday.
GAS STATION FIRES
Many gas stations have been set up in the city centre and surrounding areas that are highly populated.
Stations like Shell opposite Shoprite Clock Tower, Total Nsambya that right next to a carpentry workshop and school, the fuel depot at Banda stage overlooking the slum and two other depots in Kyengera on Masaka Road pose a great threat to the nearby communities is simply a ticking time bomb.