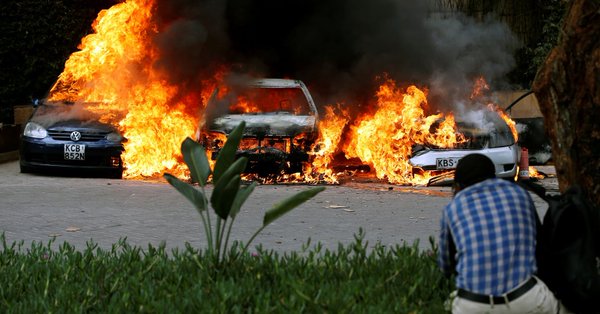 Somalian based terrorist outfit, Al-Shabaab has reportedly claimed responsibility for the ongoing terrorist attack in Nairobi, Kenya's capital.
According to SITE Intelligence Group, an organisation that monitors jihadist activities, the Islamist radical group has claimed responsibility for the attack on orchestrated on Dusit hotel and a shopping complex along 14 Riverside Drive in Westlands.
According to Kenyan Police, the attack is just 4 kilometres away from Westgate Mall, where Al-Shabaab on Sept. 21, 2013, killed 71 and wounded 200.
"The National Police specialised units are on site at 14 Riverside Drive to engage the attackers. Please utilise this channel for all official information and refrain from re-tweeting unconfirmed news," the Police's official communications platform reported.
According to historical accounts, today's attack happens exactly three years since Al-Shabaab ambushed Kenya AMISOM forces in El Adde, Somalia on January 15, 2016.
The militants claimed they captured 12 Kenyan troops. This suggests Al-Shabaab has a hand in today's attack.