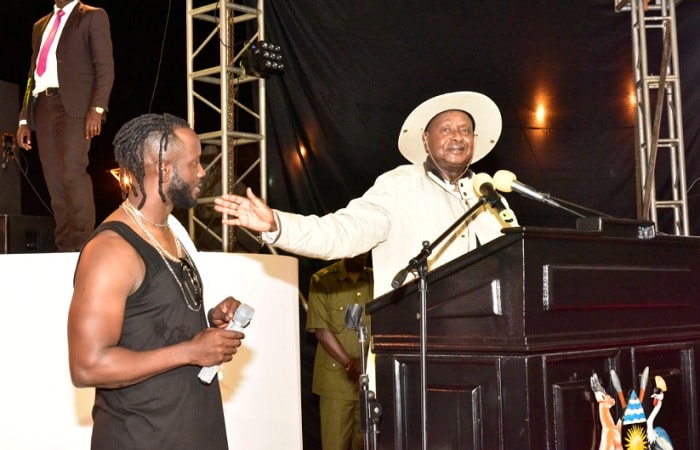 Bebe Cool has told all musicians that shared money he got from the president to come out and confess to the public lest he exposes them.

While appearing on a television interview, the singer admitted to receiving Shs400m from President Yoweri Museveni – which he says was shared among over 20 artistes that have since denied receiving it.
Although he declined to name the artistes some of whom he says, have been abusing the President lately, the self-proclaimed 'Big Size' has vowed to name and shame them if they don't come out and admit to receiving the money in less than 24 hours.

"Bebe Cool is an honest man. Behind these dreadlocks is a truthful man. These artistes signed for the money on camera. And I'm going to release their videos one by one if they don't tell the public the truth within 24 hours," Bebe dared.
Bebe Cool was responding to claims by Andrew Benon Kibuuka, the President of the Federation of Performing Artistes of Uganda (FPAU) who claimed that he (Bebe Cool) received money from the President and used it for his own purposes instead of giving it to artistes.
The accusations and counter-accusations come at a time when some 'sharp' people claiming to be promoters of the foiled Bobi Wine concerts allegedly got Shs2bn from President Museveni – money that has since disappeared.
Bebe Cool wrapped Kibuuka for being a hypocrite who castigates Museveni during the day but deals with him during the night revealing that he actually led a delegation to State House to demand the president for the money that he has since failed to account for.
"Some of these people who claim to be our leaders make me laugh. When I was pelted with bottles on stage, they never spoke out. When Bobi Wine shows were cancelled, they were all over the place. They are just hypocrites," the Wasibukawa singer said.
What made Bebe Cool even more angry is the fact that even the musician whose concerts were cancelled, Bobi Wine did not receive a single shilling from the Shs2bn Museveni gave the promoters as compensation despite being the most aggrieved party.
He advised Kibuuka to clean his house first before attempting to divert the public from his own mess to focus on Bebe Cool who already has accountability for the money he received.