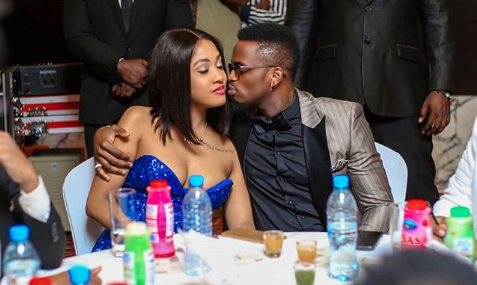 Kenyan radio presenter Tanasha Donna has revealed that dating Tanzanian musician Diamond Platnumz has been an emotional rollcoaster that has nearly left her depressed at times. `
The gorgeous RNG Radio presenter (who replaced Ugandan Zari Hassan in the Tanzanian superstar's life) says that she almost went into depression when she started dating Diamond sometime end of last year, and that she still has a lot of emotional stuff to deal with on a daily basis courtesy of dating the Tanzanian singer.
Donna attributes it all to the pressure that comes with being in a relationship with a top celebrity and the never ending trolls from fans.
"At the beginning of the relationship, I used to cry daily. I almost fell into depression," Tanasha told Kenyan media earlier today.
"I do feel insecure dating Diamond. He told me the social media drama I'm facing is nothing compared to his past relationships. But once his fans realise he is indeed serious with our relationship, they will show support," she said.
In addition to all that, Tanasha has also had to contend with shuttling between Nairobi and Dar es Salaam almost every other week to keep the romantic fire burning.
Regarding her thoughts about her predecessor in Diamond's life, Zari Hassan, Donna says: " I hope that one day we will come to a place of mutual understanding because of the kids. I know this social media and stuff creates unnecessary drama to create a rift between us by comparing is but one day God willing, we shall meet and talk."