A rather bizarre twist has occurred in the case of the stoning of President Museveni's car in Arua last year, as senior Police officers have been charged and convicted .  The condemned officers include  former Regional Police Commander West Nile Jonathan  Musinguzi, former District Police Commander of Arua SP Abbas Ssenyonjo, as well as Robert Junena (FFU) and Edward Mugweri.   During the   Police disciplinary court sitting in Arua district yesterday, four of the six accused  officers were convicted.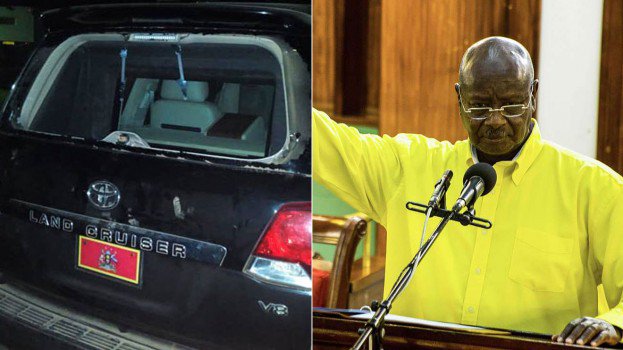 The case had three days of hearing and was presided over by SCP Denis Ondongpiny.  The court ruled that the senior officers failed to deploy man power of over 500 policemen which was at their disposal to help them contain the situation despite seeing the signs of possible chaos.
The court also ruled that the officers put the life of the president in danger by failing to secure the route the Head of State was using after campaigning for Nusura Tiperu, prompting  the Special Force Command to leave their cardinal role of protecting the president and resort to controlling the crowd.
Basing on the evidence presented by the Regional Professional Standards Unit's Evans Vuata and Allevious Muhoozi , an intelligence officer, court ruled that the senior officers didn't apply quick decision-making and intelligence,  which endangered the life of the president when his convoy was stoned by Kassiano Wadri's supporters.
During the vindication process, all the officers requested for lenient sentences saying they are first time lawbreakers and are witnesses in the treason case against 34 people accused of stoning President Museveni's car.
"They should be given severe sentences for neglecting their duty. They should serve as an example to other officers never to take the president's security for granted" StephenIbanda said.
The officers are yet to know their fate following the chaotic outbreak in Arua that occurred on August 13,2018. During the outbreak , all the area security officers were fired. Bobi Wine who was in Arua for the by elections and other 30 people were arrested. The politician's driver YasinKawuma was shot dead