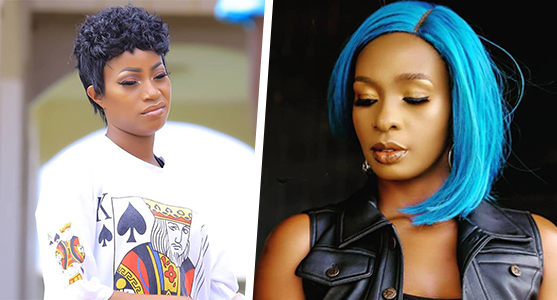 The King herself Cindy has come out to advise her nemesis Sheebah Karungi to stop working under pressure. Appearing on a TV interview, Cindy admitted that the self-proclaimed Queen Karma has for years been doing good music though her recent releases, 'Jealousy' and 'Kimansulo' are half baked compared to her known standards.
"I believe Sheebah is a good artist but she should stop working under pressure," said Cindy.
Cindy went ahead to offer some advice saying; "Sheebah could be releasing this kind of music because she is trying to reply to my 'copycat' song. She should take a deep breath and relax."
"If such songs are part of her preparations for the battle, then she needs more time. I can give her 20 to 30 years to prepare for the battle," added Cindy with a confirmation claim of her being ready anytime the battle is set.
Cindy's tiff with Sheebah is believed to have started when Cindy appeared on a TV interview and asked for a battle with the Queen Karma claiming that she is better than her.