Ever since the Presidents of Uganda and Rwanda met in a Quadripartite Meeting that included their counterparts from Democratic Republic of Congo (DRC) and hosts Angola in Luanda and signed a Memorandum of Understanding, the two neighbours have had several meetings involving Foreign Affairs Ministers and high ranking officials to find a solution to the pressing issues that culminated into Rwanda closing its border with Uganda at Katuna.
Last week on Friday, the same kind of meeting was held in Kigali, Rwanda and officials from both countries agreed on a range of issues to be resolved, the success of which will normalise the relationship between Rwanda and Uganda, and pave way for the opening of the Katuna border.
The official statement jointly released by Foreign Affairs Minister Sam Kutesa and Rwandan Minister of State for East African Community Olivier J.P. Nduhungirehe states that "Both parties committed to protect and respect the human rights of nationals of either party in observance of the rule of law and international humanitarian law and ensuring due process."
The statement also said that both parties will verify the number and the status of nationals of either party detained in each other's country and to report back through a Note Verbale in three-week's time.
On Friday, February 21, 2020, Presidents Kaguta Museveni (Uganda), Paul Kagame (Rwanda), João Lourenço (Angola), and Félix Tshisekedi (DRC) will have another Quadripartite Summit at Katuna border to finalise the Extradition Treaty.
At the fulfilment of the above, the statement reveals, normalisation of activities and mobility of people and goods across the common borders of Uganda and Rwanda will be considered.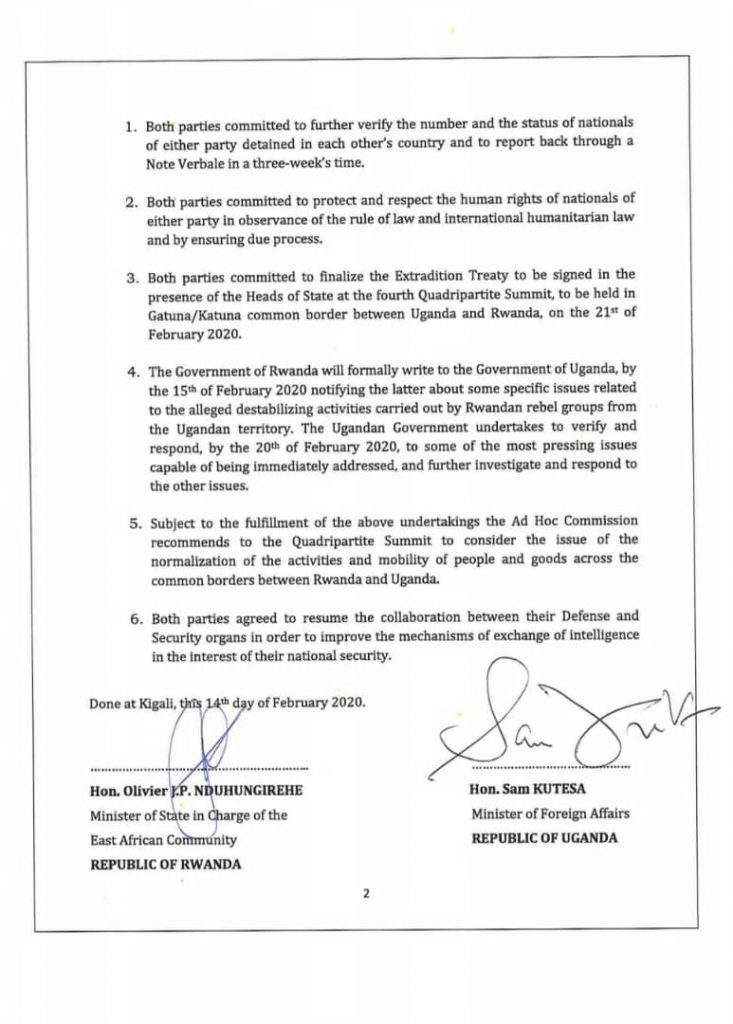 From Uganda, the meeting was attended by Foreign Affairs Minister Sam Kutesa, Attorney General William Byaruhanga, Internal Affairs Minister Gen. Jeje Odongo and Chieftaincy of Military Intelligence (CMI) Director of Strategic Communication Lt. Col. Paddy Ankunda among others whereas the delegation from Rwanda was led by Minister of State for East African Community Olivier J.P. Nduhungirehe, Minister of Justice and Attorney General Johnson Busingye among others.
Rwanda closed her border with Uganda at Katuna in February, 2019 citing Uganda's alleged involvement in destabilizing the country, and mistreating Rwandan nationals in Uganda.