A few months before the confirmation of the first COVID-19 case in Uganda in March, the Ministry of Health had already deployed health workers at the airport and all border entry points that worked diligently to scan and test all those that were entering the country.
More of these were deployed in several health centres as more COVID-19 cases were confirmed in the country, and their work speaks for them. Of the 870 confirmed cases in the country, 808 have recovered and have since been discharged.
In President Museveni's speeches about the COVID-19 situation in the country, he has repeatedly praised the frontline health workers for a job well done, as well as advocating for the improvement of their pay and working conditions including other scientists. These are about to be recognized even more.
Today, the Ministry of Health in partnership with the Ministry of ICT and KAS Uganda will recognize and celebrate the efforts of the frontline health workers in a campaign dubbed 'Faces of Care' that will run between the July 5 – 15, 2020.
The campaign will see nurses, doctors, ambulance drivers, and cleaners who maintain health centres all over the country in great hygiene recognized and celebrated for their heroics in the fight against COVID-19.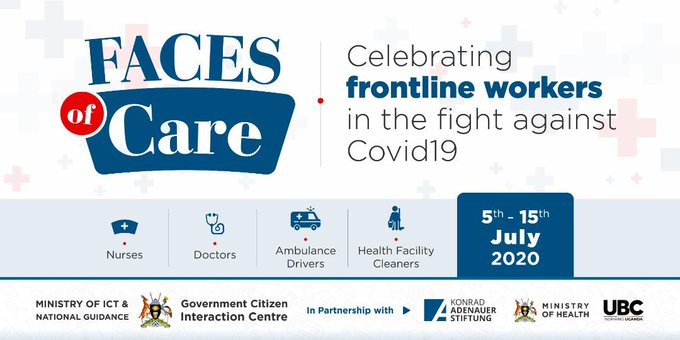 With 808 recoveries and no single COVID-19 death registered yet, Uganda seems to have COVID-19 under control with only 62 active cases.