Local football governing body FUFA has finally distributed $500,000 (about Shs1.8 billion) FIFA COVID-19 relief grant.
The FUFA CEO Edgar Watson confirmed the latest development as e said the FUFA Executive Committee approved appropriation of funds. Edgar said that the appropriations have made in consideration of the FIFA COVID-19 Relief plan regulations.
"FUFA wishes to announce receipt of USD 500,000 being the first part of Solidarity Grant earlier applied for and approved by FIFA. The FUFA Executive Committee deliberated on and approved the allocation of the funds. As stipulated in the Regulations funds will be transferred directly to the beneficiary's bank account within the next 14 days," Edgar said.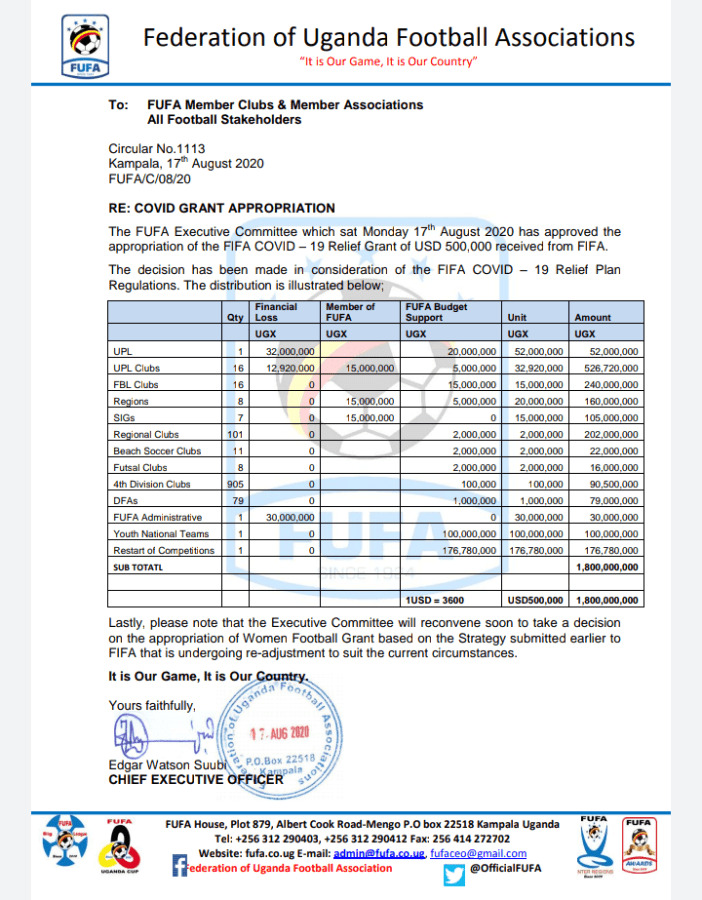 He added, "FUFA is in the process of applying for the Women's Football Grant and all stakeholders will be informed of any developments in this regard as soon as they occur. FUFA wishes to express its gratitude to FIFA for the timely support to football and its stake holders especially during this COVID-19 Pandemic period."
In June, FIFA FIFA announced that it will make available $1.5 billion in grants and loans as a relief fund to help associations impacted by the coronavirus.
In a statement, FIFA said that all its 211 member associations will be entitled to a "basic solidarity grant" of $1 million (Shs3.7 billion) each as well as $500,000 (about Shs1.8 billion) which must be invested in women's football.