Minister for Health Dr Jane Ruth Aceng has this afternoon given an update on the current COVID-19 situation in the country. Dr Aceng said the situation is no longer worrying as government has used the 42 days of lockdown to boost their fighting capacity.
As of today, the country has registered 92,795 cumulative cases of COVID-19. Currently, there are 677 patients admitted in different health facilities.
Dr Aceng said there next area of priority is mass vaccination which she said has been slowed down by the overwhelming demand globally.
"Most African countries are unable to get the vaccines despite the availability of funds," said Aceng before disclosing that government targets to vaccinate at least 22 million people before full opening up.
To date, a total of 1,139,260 doses of the AstraZeneca vaccine has been issued to the population countrywide. A cumulative total of 902,293 people have received the 1st dose of the vaccine while 232,743 have received the 2nd dose of the vaccine.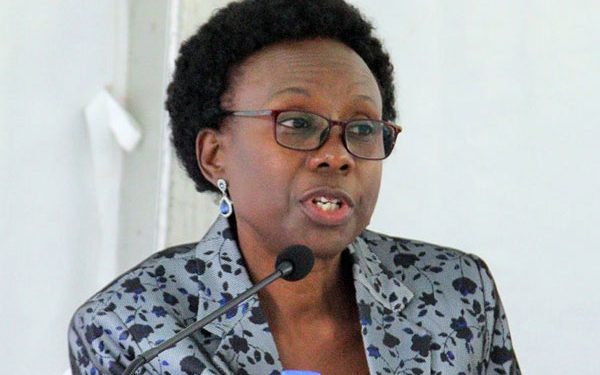 The Health Ministry has since generated a priority list of COVID-19 vaccines that can be used in the country. These include; AstraZeneca, Johnson and Johnson, Pfizer BioNTech, Sinovac, Sinopharm, Sputnik V, Sputnik Lite, Moderna.
"This list will be revised as more vaccines undergo Emergency Use Licensure by WHO and the National Drug Authority (NDA)," she said.
Uganda will receive 586,080 COVID-19 Vaccines this week. 286,080 doses of these will be AstraZeneca and will arrive on Friday July 30. 300,000 doses will be of Sinovac type and these will arrive on Saturday July 31.
Aceng said they are going to use a multi- pronged approach to secure more vaccines. The following options are being employed; Purchase of vaccines through the COVAX facility, Purchase of vaccines through the African Union, Purchase of vaccines from manufacturers and Donations through the COVAX Facility.
Aceng revealed that an order of 2 million doses of the Johnson and Johnson vaccines have been signed up with the African Union and a down payment of USD 3 million has been effected. Also another order of 9 million doses of the AstraZeneca vaccine has been placed with the COVAX facility.
"Organizations that may wish to procure vaccines and vaccinate their staff at no cost will be allowed to do so through the National Medical Stores (NMS)," she said.
Aceng condemned yesterday's incident where unknown people dropped coffins along road leading to Mulago Hospital with placards demanding for resignation Health Ministry Permanent Secretary Dr Diana Atwine.
"Allow me to condemn in the strongest terms possible the act of throwing coffins to threaten our Permanent Secretary and the act of abusing health workers. Such acts demoralize.
Our permanent Secretary has always issued accountability; I don't know what accountability they are talking about," she said.
The Minister said President Museveni will address the nation after the 42 days on the next course of action.