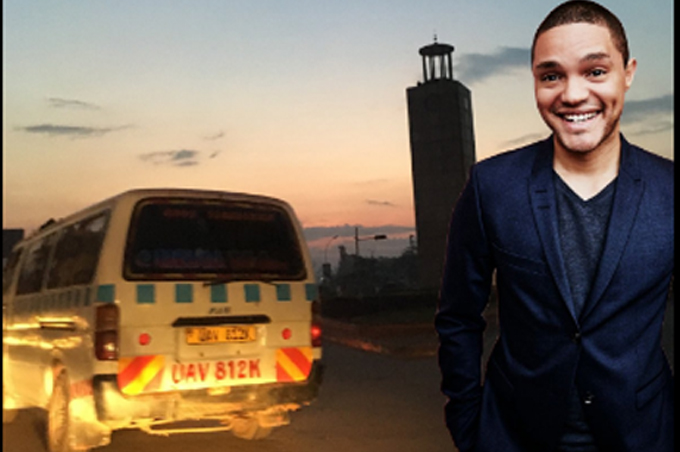 Yesterday, following a tip off from Uganda Culutre Week organiser, comedian Patrick Salvado Idringi, Matooke Republic reported that Daily Show host Trevor Noah is set to visit Uganda this November.
Trevor Noah replied to our tweet saying; "This is a scam, I am not coming to Uganda."
Both Salvado and South African born Trevor Noah are comedians of repute so we cannot tell who of them is joking, until November.
But Ugandans on Twitter were not taking any of Trevor Noah's disdain for the Pearl of Africa, as if coming here will make him catch an incurable disease.
UOT immediately started a hash tag #TrevorNoahVisitsUganda that is still the top trend on Twitter. Some photoshopped images of the comedian in Uganda, others told him what he will miss out in case he doesn't come to Uganda while others took advantage of the trending topic to market their products.
One thing Trevor must have accepted though is that Ugandans have a very good sense of humour. No wonder he has two Ugandan writers on his Daily Show team in David Kiwanuka and Joseph Opio. We wonder what they told him is so bad about Uganda that he doesn't want to come though.
Anyway, below are some of the hilarious and ridiculous tweets.
It's a wrap #TrevorNoahVisitsUganda pic.twitter.com/XzJ2o6R1ZA

— Joel Jemba (@joeljjemba) March 23, 2017
When @Trevornoah learns to 'slay' like #KoikoiUg peeps. Oh maybe Sipi falls was just too hot. #TrevorNoahVisitsUganda pic.twitter.com/SUYm0DcCE5

— kafundakreatives (@kafundakreative) March 23, 2017
#TrevorNoahVisitsUganda @Trevornoah We have your transport covered. pic.twitter.com/qPl4UUCBBI

— Amanya (@mpozii) March 23, 2017
You know what would be nice, @Trevor Noah? You just coming to see what a beaut Uganda is. Khwakhulindiire! ☺ #TrevorNoahVisitsUganda pic.twitter.com/2qsHsfPQwt

— Evelyn Masaba (@NoirEnBlanca) March 23, 2017
Gwe @Trevornoah You celeb people like to be undercover. Accommodation options… #TrevorNoahVisitsUganda pic.twitter.com/7uDF5M1Pu2

— Mazzo (@MazzoMawanvu) March 23, 2017
#TrevorNoahVisitsUganda No sunset like in Chobe in Ug pic.twitter.com/G1oMxR2VYL

— Allen C. Kagina (@UNRA_ED) March 23, 2017
. @Trevornoah: I am not coming to Uganda.
Ugandans: Please, what do you mean you're not coming to Uganda? #TrevorNoahVisitsUganda ???? pic.twitter.com/AQFDploVSh

— The Timeline (@thetimeline256) March 23, 2017
When it rains when @Trevornoah is in Kampala #TrevorNoahVisitsUganda @starbuckug @mpozii @pyepar @pkahill @JHQueenBee pic.twitter.com/Af16FU32vV

— #MrGoodNews (@primepeter16) March 24, 2017
When our president @KagutaMuseveni hears that @Trevornoah isn't coming. We don't take No for an answer. #TrevorNoahVisitsUganda

— Phoebe F Kuky? (@Ms_Kuky) March 24, 2017
Why @Trevornoah should visit Uganda. It feels like heaven #TrevorNoahVisitsUganda pic.twitter.com/una9ZNA2KW

— disco_dan (@aivanm) March 24, 2017
Look what you did @Trevornoah
#TrevorNoahVisitsUganda pic.twitter.com/w5IJiZ31ue

— Waswa Sam (@CountWaswa) March 24, 2017
.@Trevornoah Are you sure you want to miss this?? #TrevorNoahVisitsUganda pic.twitter.com/BD03PFaMW2

— This Is Uganda (@ThisIsUganda_) March 24, 2017
@Trevornoah my president can ride abike,,how about yoz.. #TrevorNoahVisitsUganda pic.twitter.com/2jTtfNzBsn

— kitubi martin (@dyermarti1) March 24, 2017
Waiting for Trevor like ☹️☹️…………. #TrevorNoahVisitsUganda pic.twitter.com/IrPXMHNpIj

— Mr_Cheyman (@bs_eagle006) March 24, 2017
@Trevornoah this is my president…U should meet him.#TrevorNoahVisitsUganda pic.twitter.com/MBnL4QWpn6

— kitubi martin (@dyermarti1) March 24, 2017
Trevor Noah to build ark for Bwaise #TrevorNoahVisitsUganda pic.twitter.com/RNLvOMWhfL

— Matthan (@mat_kwagala) March 24, 2017
@Trevornoah am not comin 2 Ug
Me: Dude shutup & give me my rola, no onions plz!#TrevorNoahVisitsUganda talkin abt aint comin whn u aldy here pic.twitter.com/LMv3w2YZQt

— Ivan Sanya™ (@iver4sen) March 24, 2017
@Trevornoahn Along Kampala road heading to Bwaise #TrevorNoahVisitsUganda @thetimeline256 @JesaFarmDairy @skaheru @pkahill @UgachickSupa pic.twitter.com/m3qGXSlNw5

— #MrGoodNews (@primepeter16) March 24, 2017
UOT: #TrevorNoahVisitsUganda
Trevor Noah: Its a scam, blah blah
Me: pic.twitter.com/zMS9iSg249

— £drin£ Vs $empe$ (@edrinesempebwa) March 24, 2017
It's even on a DVD #TrevorNoahVisitsUganda pic.twitter.com/WsE6ofiJMi

— Denno Nho (@Denno_Nho) March 24, 2017
There you go Trevor, you got served #TrevorNoahVisitsUganda @greisaine @MazzoMawanvu @stkirenga pic.twitter.com/sjmJhkmFAh

— Muha Ceasar (@lcmuha) March 24, 2017
Boss, we already have A WHOLE CAR named after you. Kwegamba just allow that the #TrevorNoahVisitsUganda plot is on @TrevorNoah @LOLUganda pic.twitter.com/Ff5Tg1qOCK

— Simon Kaheru (@skaheru) March 24, 2017