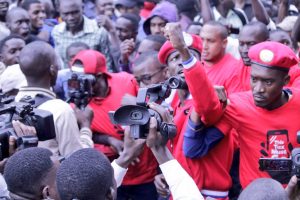 Kyadondo East MP, Robert Kyagulanyi alias Bobi Wine has taunted police that to arrest him, they have to be ready to face "people power."
Kyagulanyi led a demonstration on the morning of Wednesday, July 11, against Social Media and Mobile Money Taxes escaped arrest by a whisker after the police swang into quelling the demo and arresting some protestors.
I would like to thank whoever came through and added a voice to the struggle against the unfair taxation. The police fought so hard to arrest me but the power of the people overpowered them…. pic.twitter.com/BCdxPocY7k

— BOBI WINE (@HEBobiwine) July 11, 2018
When tear gas was unleashed, Kyagulanyi fled for the heels and resurfaced in Parliament where the Prime Minister, Rt Hon Ruhakana Ruganda assured the members that government had listened to the citizen's cries and was reviewing the Excise Duty Bill on the said taxes.
The Prime Minister Ruhakana Rugunda has made a statement to Parliament on the OTT and Mobile money tax. He says the president has considered public concerns and proposed that a bill on the said tax is discussed in Parliament next week on Thursday. #PlenaryUg pic.twitter.com/AmRUUB8XHk

— Parliament of Uganda (@Parliament_Ug) July 11, 2018