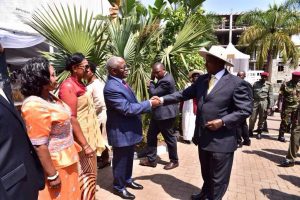 The two maybe political enemies but President Museveni and former Prime Minister, Amama Mbabazi are still tight friends.
Today, Amama hosted two African Presidents, Cyril Ramaphosa of South Africa – whose son Adile – is marrying Mbabazi's niece and long-time friend cum nemesis, Yoweri Museveni.
One can easily mistake Mbabazi's home in Kololo for a government function as all the top government and business bigwigs are in attendance.
Quite literally, Bridget Rwakairu, Mbabazi's 37-year-old niece is being taken to a top family in South Africa. The Ramaphosas are not only the First Family, their businesses expand to mining, telecom, banking among others.