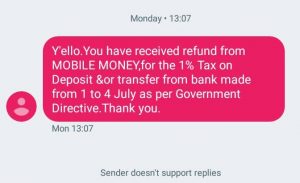 After government slashed the dreaded mobile money tax from 1% to 0.5%, President Yoweri Museveni while responding to comments on his social media intimated that telecom companies will refund the money that incurred the 1% charge.
However, several telecom companies have effected the directive – except MTN Uganda.
According to several customers that Matooke Republic has talked to, they stop at receiving an SMS that their money has been refunded but the money itself doesn't come.
"Dear MTN, I received this text early last week but there is no evidence of the said refund.
You need to clarify to your subscribers what this is about. Do not take us for granted," wrote a one Benjamin Mutebi.
Another customer who received the refund text wondered why he could not see the refunded money.
"But I can't see the refunds? Where were they sent? I think MTN is here to test our anger management skills," Bish Roland said.
It is also on record that despite slashing the tax by half, MTN insisted on collecting the 1% arguing that Parliament had not passed the amendment on excise duty effecting the changes.
Valery Oketcho, the MTN Corporate Communications Director told Matooke Republic that the refunds actually paid out from July 27, 2018, until Monday 30, 2018.
"We received a letter from the Uganda Revenue Authority (URA) on July 25th to make the refunds and started the process on 27th till midnight on 30th. Everyone who was charged was refunded," he said.
Oketcho further explained that the SMS notifications were sent to customers after the refunds were made adding that some had probably already spent the money without checking their mobile money balances first.
"The total amount of money paid in refunds was about Shs1.3bn and our system shows that it was paid out," he added.