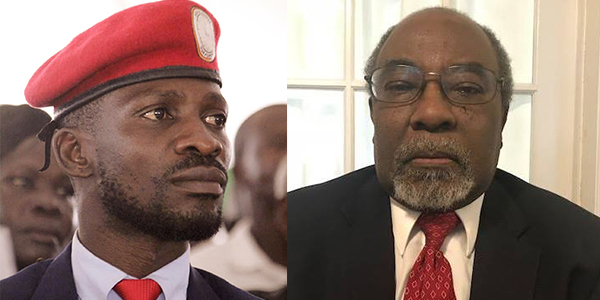 A Ugandan born though New York-based development consultant, Eric Kashambuzi has accused Kyadondo East MP, Robert Kyagulanyi of greed and self-enrichment at the expense of ordinary Ugandans.
Kashambuzi who has for a while attacked the legislator for harbouring presidential ambitions also accused Bobi Wine is rallying Uganda's youth against the elderly with a plan to "purge" them out of power.
"Bobi Wine is holding music concerts to make more money and become richer. He has discovered a nice way to exploit the poor without being blamed," the former United Nations Development Expert said.
Using his position in Parliament, Kashambuzi says Bobi Wine should be organising poverty alleviation programmes for the youths in Uganda, finding avenues for employment but not looking for avenues to make more money from them.
"Tell me; how many poverty reduction projects has he [Bobi Wine] launched? How many workshops on poverty reduction and ending unemployment has he organized? Tell me," he charged.
"When Bobi becomes president, if he does, he will tell the poor and unemployed youth who are supporting him that he worked hard in a ghetto to become rich and he will tell his supporters to work hard on their own as he did. If they start demonstrations he will remind them that this is a country of laws and the government will ensure that law and order is strictly enforced. Mark my words!"
Kashambuzi's comments come at a time when Bobi Wine's Kyarenga Album launch that was meant to held at the Mandela National Stadium (Namboole) was blocked by the authorities twice and now hangs in balance.
In a tweet, the singer said a new date and venue for the concert will be released soon.
Also, if you're struggling to know who Kashambuzi is, this might help.